Always Ultra Sanitary Towels
ALWAYS Ultra Long Size 2
No two women are the same, yet ALWAYS Ultra Long (Size 2) with wings offers up to 100% protection for your shape and flow. These pads are ideal for light flow days with Large-sized knickers, moderate flow days with Medium and Large-sized knickers, or heavy flow days with Small-sized knickers. ALWAYS Ultra sanitary towels feature SecureGuard contours and liquid-locking gel that can't leak. This is because the gel pulls fluid in to prevent leakage. They also contain Odour Neutralising technology, which blocks odours and doesn't just mask them. Even though ALWAYS Ultra sanitary towels are 3mm thin, they provide a great feeling of comfort and protection during your menstrual cycle.
There's ALWAYS more
Ultra absorbent
Liquid-locking gel locks liquids in and gel can't leak.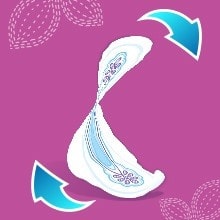 Ultra fit
Ultra fit for brilliant protection and comfort.
SecureGuard for added security
SecureGuard helps to keep fluids in check as the sanitary towel absorbs and locks fluid away.
Odour Neutralising Technology
Odour Neutralising Technology locks odours in and doesn't just mask them, and features a light scent.
Also try ALWAYS Secure Night, Size 4
Rewrite the rules with ALWAYS MyFit and get a leak-free fit for your shape and flow, even at night with ALWAYS Ultra Secure Night (Size 4), ALWAYS Ultra's best sanitary towels for overnight protection.
Herbal Essences Argan Oil Repairing Concentrate Hair Mask