Halloween party food favourites
---
Turn your trick or treat sweets into a scary surprise and try our easy Halloween recipes for a tasty horror feast!
Halloween is a brilliant excuse to get together with friends and family. To start with, get crafty and make this bowlful of lollipops that'll have your neighbours wondering if they've landed a trick or a treat…
Creepy crawly lollipops
Turn everyday lollipops into customised creepy spiders and bats.
You will need:
Lollipops
Black and orange tissue paper
Sticky tape
Scissors
Hole-punch
Decorative pipe cleaners
Wiggly eyes (available in high street craft stores)
Glue
Black card
How to make creepy crawly lollipops:
1. Cut the tissue paper into small squares. Wrap each lollipop with a black or orange piece of tissue paper. Secure the bottom of the paper with sticky tape.
2. Cut the pipe cleaners in half.
3. Wrap pipe cleaner halves around each lollipop stick to make the spider's legs. Wrap them over each other to keep them in place. Each spider will need 4 pipe cleaners to make the 8 legs.
4. Glue the wiggly eyes in place.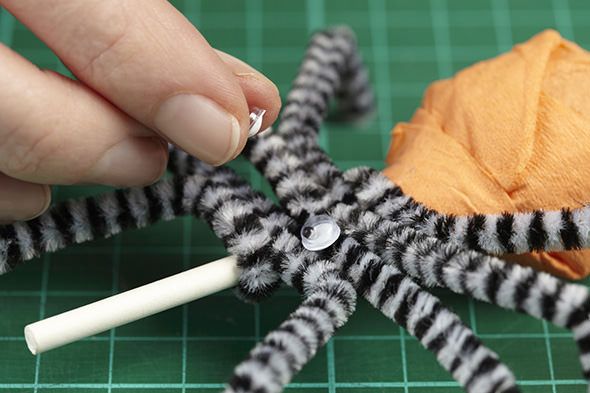 5. Cut the black card into bat shapes and use a hole-punch to create two small holes alongside each other where the 'mouth' would be.
6. Thread a short length of pipe cleaner through the holes and secure the bat to the lollipop stick.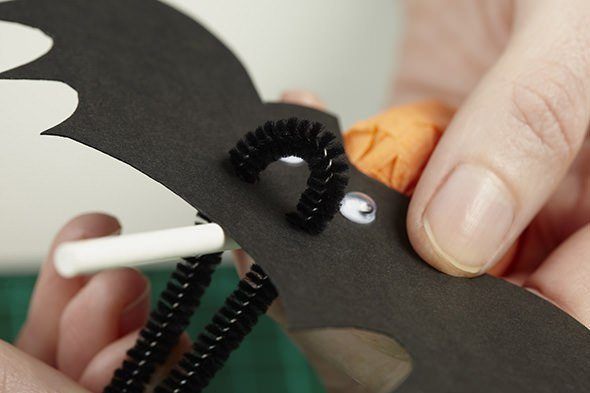 7. Give each bat a pair of wiggly eyes.
More Halloween party food ideas:
Use a bit of imagination (and food colouring) to lay a table of truly devilish delights. Check out our spooky cupcake ideas too! Mwah-ha-ha!
Witches' fingers
Roll slices of ham around cooked asparagus tips so the pointy green end of each tip is sticking out like a fingernail. Gruesomely good!
Melon brain
Slice off the bottom of a watermelon so it stands up. Peel off the thick green outer skin so the white layer underneath is showing. Use a toothpick or a skewer to carve out lines in the white through to the red underneath to look like a human brain.
Swamp jelly
Mix up a batch of green, lime flavoured jelly and before it sets add in peeled lychees (they look horribly like eyeballs) and gummy worms.
Toadstool tomatoes
Cut tomatoes in halves and pipe little white dots of cream cheese over the tops for sides salad nibbles.
Halloween party costume ideas:
Check out our ideas for easy-to-make, cool Homemade Halloween costumes.
Trick or treat tooth care
With all the sugary treats around on Halloween, it's worth paying extra attention to children's tooth care. Oral B smile director Dr Uchenna Okoye has this advice: 'Until about the age of eight it is important for parents or an adult to help children brush their teeth to ensure they are doing it correctly. It also helps for them to see their parents brushing their teeth to see the correct brushing techniques used.' Read 7 mistakes to avoid when brushing your teeth.