With its creamy flavour and bright colour, pumpkin soup is a favourite with everybody. Believe it or not, you can make it taste even better. With just a few extra ingredients we'll show you how to pimp your pumpkin soup into something tangy, hearty or spicy.
INGREDIENTS (for 4 people)

1. Basic pumpkin soup
1 large pumpkin or butternut squash
1 tbsp olive oil
1 onion
1 garlic clove
1 small red pepper
1.5 litres vegetable stock

2. Ginger, orange and sweet potato
1 large sweet potato, peeled and cubed
1 red onion, peeled and roughly chopped
1 orange (for juicing)
A knob (15-20 g) of fresh ginger

3. Lentils and fresh coriander
250g red lentils
600ml water
1 bunch (or pot) fresh coriander

4. Smoked chicken curry
150g smoked chicken shredded or cut into small pieces
1-2 tbsp currypowder
200ml coconut milk
A bunch of flat-leaf parsley

PREPARATION

1. Basic pumpkin soup

Peel and dice the pumpkin or butternut squash. Chop the red pepper, taking care to remove the seeds.Heat the oil and cook the pumpkin and onions on a lowheat, along with the crushed garlic and red pepper, for a few minutes.

2. Add the stock and simmer for 30 minutes before blending to get a nice, smooth soup. Now it's time to add a few extra ingredients...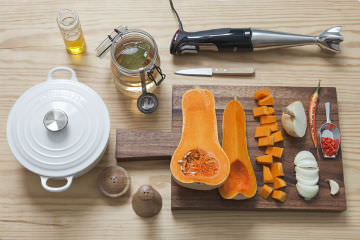 3. Ginger, orange and sweet potato
Preheat the oven to 180°C. Mix the potato and red onion together, before sprinkling with olive oil and placing on roasting tray. Bake for 25 minutes. Once the potatoes and onions are cooked, slowlyheat the soup.Add the juice of one pressed orange and grate some ginger into the soup. Pour the soup into a bowl and spoon in the roasted potato and onion mix.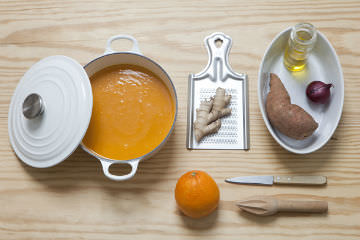 4. Lentils and fresh coriander
Rinse the lentils before adding to the basic pumpkin soup. Cook on a lowheat for about 20 minutes. Top up with water to prevent the lentils from burning. Finely chop about half of the coriander and stir through the soup once the lentils are cooked. Once served, garnish with a few extra coriander leaves.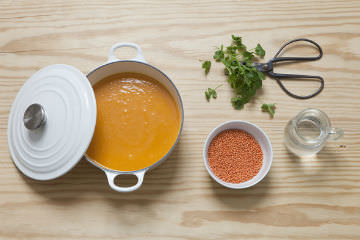 5. Smoked chicken curry
Add the coconut milk and currypowder to the soup. Stir well or blend further to ensure complete smoothness. Season the soup with salt and pepper. Serve in bowls, adding some smoked chicken and parsley.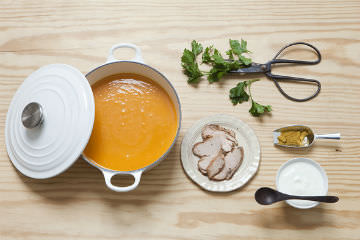 6. And there you have it, three exciting new ways to add flavour and texture to a classic soup recipe.