Brighten your home with colour
---
Without spending lots of money you can completely transform your home, if you try new colour schemes.
Don't want to commit straight away to three pots of paint? You could always start with cushions or throws in the colour you're considering for your walls. For tips on how to get started, check out our article Trying new colours, and for choosing which hues to go for, read on to find out what works where.
The green light
Associated with expressions of calm and natural moods, green is a versatile colour for homes because it's neither too feminine or masculine. If your room is filled with pale pastel greens create space, but if the room tends to be dark most of the day, try a deeper or more zingy shade like lime that works well in natural and electric light. Great for adding warmth to rooms where you've used white or cream as a neutral base – the kitchen, bathroom or lounge, for example.
In this room, brown (in the cheerful curtains, scatter cushions and coffee table) is used to provide a balance to the brightness of the green.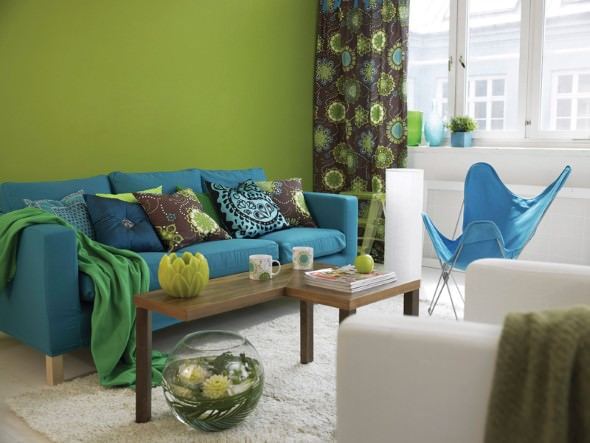 Into the blue
Blue can feel dark or cold, but choosing a lighter blue and contrasting it with white will give you a lovely country cottage effect in the kitchen. Try it alongside white walls and window frames. In a bedroom with rich red carpets and curtains or a smart darker blue for the floors; blue can be cosy if used carefully.
Rich marine blues look much warmer than pale shades. Use them on one or two opposite walls so that they don't make a space too oppressive, or use these in the room's finishing touches like cushions, a statement vase and a rug.
Here, old-fashioned, diamond-shaped blue tiles and a blue and white bathmat create a marine mood in the classic combination.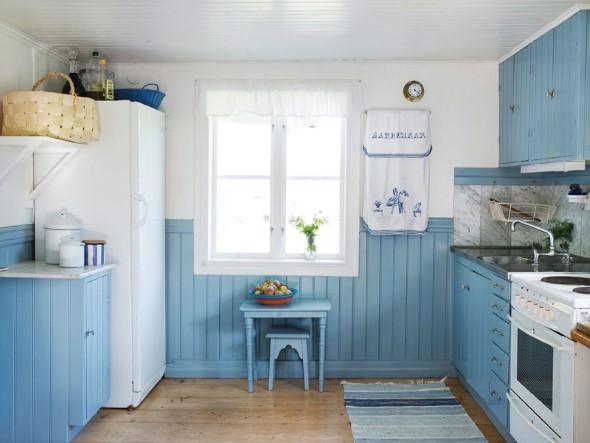 Red alert!
Bright red feels retro but lively, making it fun for a lounge where you're looking for upbeat warmth, but less relaxing in the bedroom, where you should pick deeper reds like burgundy.
The other way to use red is to add playful patterns. Red and white stripes create bold, contemporary looks, but should be tried in a room that you don't spend all your time in – a reviving burst of candy stripe colour when you step out of the shower is much better than having it on bedroom walls.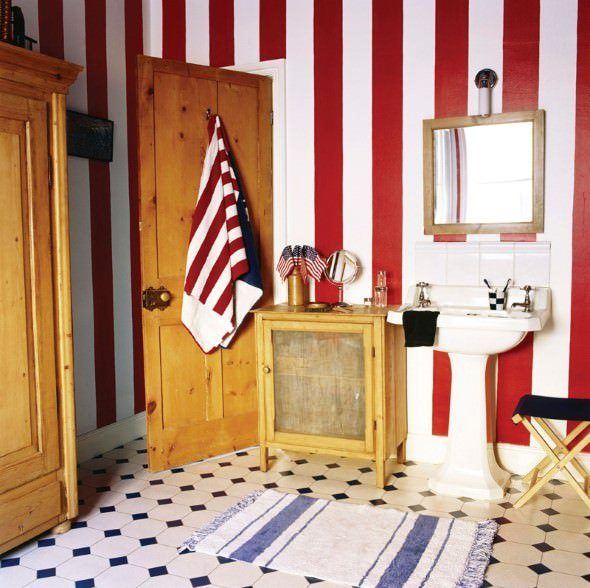 Sweet citrus
While straight up orange was a 1970s staple and terracotta was totally 1990s, in modern citrus combinations, orange adds a warm sophistication alongside lemon and lime.
In this room, straight lines and steel framed furniture keep things contemporary while the mix of lemon and lime feels playful and youthful – the perfect canvas for modern art, geometric mirrors or family photos.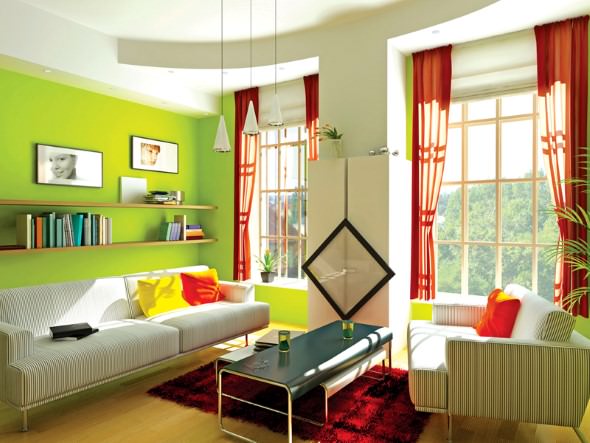 Pretty playful
Who says you have to stick to one focal wall? If you're smart with colour – citrus shades together, or combining woodland blues and greens – you can afford to take a few risks. Perfect for a teenager's bedroom, for example.
In this picture, white shelves, shutters and frames provide points of calm, while the rug softens this thoroughly modern room. Contributing to the playful mood, silver circles have been applied in one spot to reflect the pink curtains.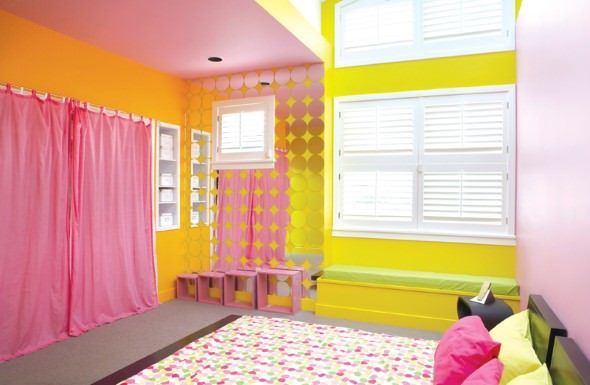 In black and white
This colour combination can do two very different things. Whitewashed stone walls and floorboards, with vintage black wood drawers and kitchen chairs create a stylish west country cottage effect in older homes, while shiny silver surfaces and black leather in a white room turn the look ultra modern.
Here, black and white striped walls take centre stage – but instead of vertical stripes, an interesting maze-like pattern has been created to keep it playful. If you want to avoid things getting too clinical, use cream-coloured furniture with wooden legs and soften details with a wool rug.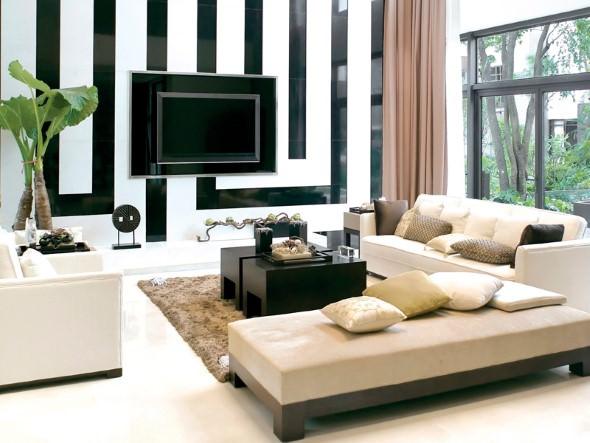 Painting has an incredibly transforming effect but sometimes you just don't have the time to clear the room, prep the walls and get the rollers out. So why not check out these 30-minute home decorating ideas for a refreshing quick fix?