21 laundry label symbols – explained!
Never ruin an item of clothing again with our simple guide to the UK's washing, drying, bleaching and ironing care symbols guide…
Before you read on, did you know that you can sign up to receive the latest Supersavvyme articles, tips & tricks and competitions? Register here.
So-long shrunken jumpers, bye-bye bobbly T-shirts and sayonara stretched-out sleeves – washing your clothes correctly saves you money AND stress. But trying to figure out a laundry label can feel like playing a game of Pictionary – badly: "Is that a crown? And what do all those lines mean?"
Don't panic! We've cracked the code so you don't have to. Take a look at the list below (and perhaps bookmark this page for future reference!) for a simple and successful laundry day.
Washing symbols
This group of symbols lets you know if your garment is safe to put through the washing machine, or if it needs more delicate treatment.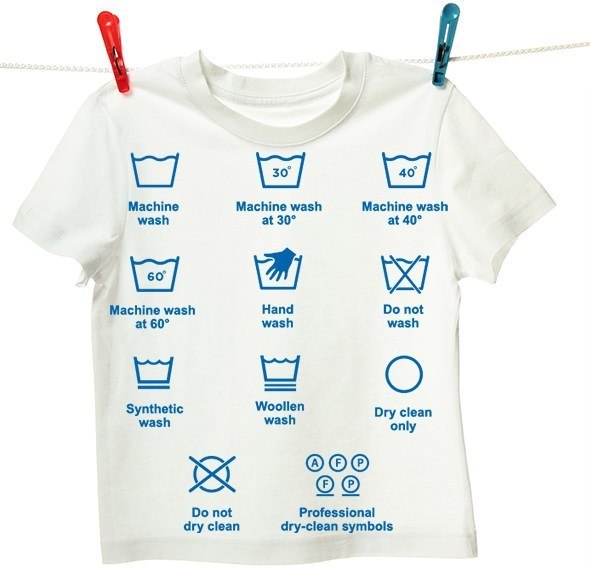 Tub with wavy water:
This means it is safe to machine wash. The number inside the tub signifies what temperature you should wash the garment at. If the tub has a cross through it, that means do not machine wash.
Tub with peaked waves:
If it has one line drawn beneath it, this means you must wash this garment on a synthetic cycle. With two lines beneath it, it should be a wool wash.
Tub of water with a hand in it:
Hand wash only.
Circle:
Dry-clean only. The circle will probably have a letter in it, which tells the dry-cleaner what solvent to use. If the circle has a cross through it, the item should not be dry-cleaned.
Drying symbols
These symbols well help you avoid items shrinking or becoming misshapen when drying.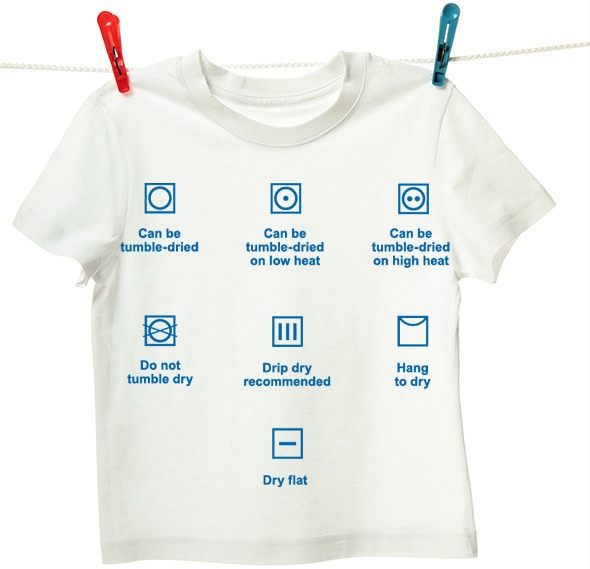 Square with circle in it:
This means the item can be tumble dried. If there is a dot in the middle of the circle, it must be done on a low heat. Two dots means it can be dried on a high heat. If there is a cross through the symbol, the item should not be tumble-dried.
Square with lines:
If the square has three vertical lines in it, this means you should drip dry the item. If it's one drooping line hanging from the top, this means hang to dry. If it has one horizontal line in the middle, this means dry the garment flat.
Ironing and bleaching symbols
These symbols will stop you from fading colours or doing any damage when ironing.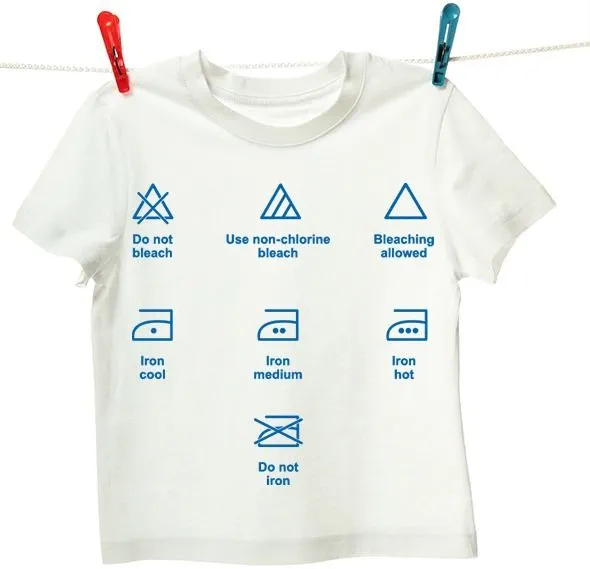 Triangle:
A triangle symbol means 'bleaching allowed', so one with a cross through it means 'do not bleach'. One with diagonal lines means use non-chlorine bleach only.
Iron:
The dots in the iron symbol show the temperature you should iron the garment on, so one dot = cool, two dots = medium, three dots = hot. The cross through the iron means – you guessed it – do not iron.
So now you know! And to make laundry day even easier, try new Ariel+ collection – there's one to suit every laundry need. Even better, there's no messy measuring needed – simply throw the capsule packed with cleaning power into your washing machine drum and you're ready to go!
The unique multi-compartment design of the Ariel+ range keeps the ingredients stable and separate until they reach the wash. The innovative film dissolves completely upon contact with water to release the powerful technologies that tackle a broad range of stains and odours with just the right amount of detergent.
New Ariel All-in-1 PODs +OXI Stain Removers Effect deliver our best stain removing power yet. These super concentrated washing capsules are boosted with high-efficiency enzymes so you get an outstanding Ariel clean, even at low temperatures.
Designed to keep your clothes brilliantly clean and smelling incredibly fresh, new Ariel All-in-1 PODS +Lenor Freshness will give your clothes room-filling freshness. Fortified with extra scent boosters and motion activated perfume bubbles, these super-concentrated capsules offer our freshest clean yet.
Our most potent laundry capsule when it comes to getting rid of malodour Ariel All-in-1 PODS +Active Odour Defence have been designed to remove tough stains and odours even from activewear.
Have you ever been caught out and misunderstood laundry care symbols?
Let us know your stories in the comments below!